The Strategy
According to Kiplinger, "The biggest threat to retirement wealth is withdrawing too much money from a shrinking nest egg, because there may not be enough left to benefit from the inevitable market rebound."
That statement is correct, and it argues for "time-segmenting" your retirement savings. Time segmentation makes it easier to align your retirement timeline with your investment strategy. It may also help you mitigate Timing Risk and Inflation Risk. By supplementing Social Security with a deferred income annuity, you can also better protect against Longevity Risk– the possibility of outliving your income.
The emphasis is on helping you manage key risks.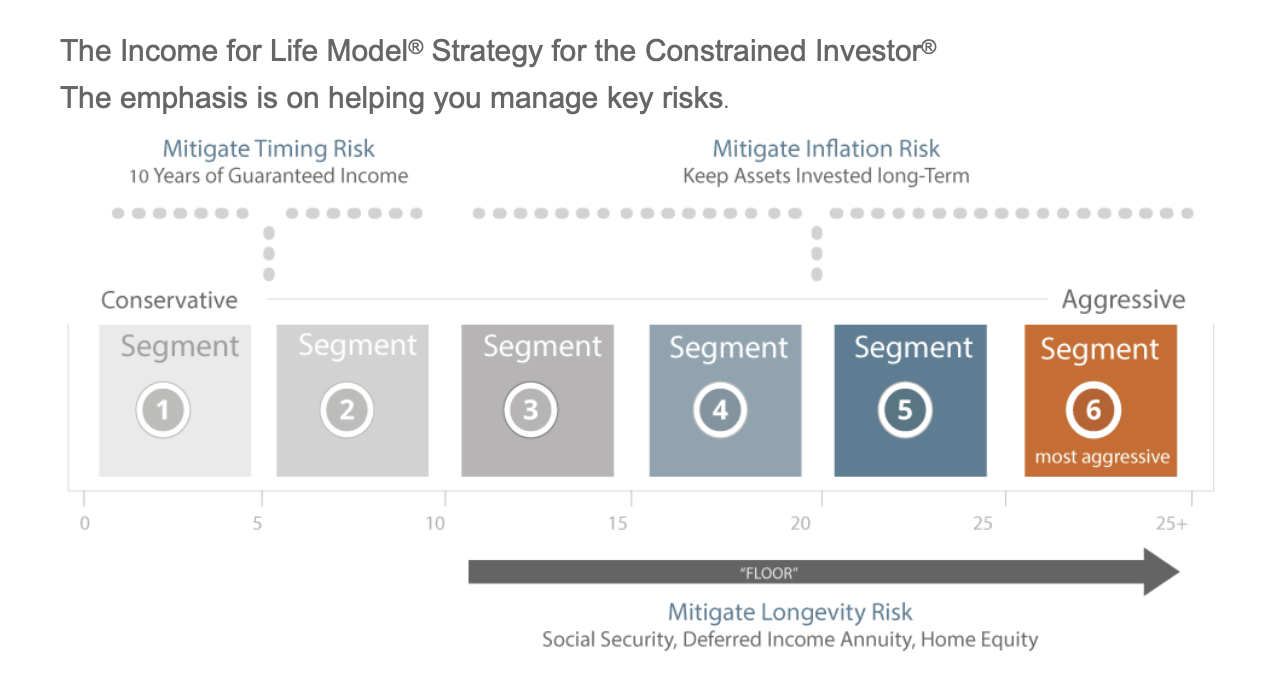 © Copyright 2005- Wealth2k, Inc.
WEALTH2K, INC. DOES NOT PROVIDE INVESTMENT ADVICE.
The projections or other information generated by The Income for Life Model calculator related to total returns are hypothetical illustrations of mathematical principles that do not predict or project the performance of an investment or investment strategy. The computations of future returns are based upon assumed variables and inputs made directly by the user and does not guarantee future results. Moreover, the computations do not reflect investment costs or taxes, if any.
The Income for Life Model, Hybrid Time-Segmentation and ROI Reliability of Income are registered trademarks of Wealth2k, Inc. Three Big Risks, Constrained Investor, What's My Income, What's Your Income? and Income Floor are trademarks of Wealth2k, Inc. Knowing Your Number is Not the Same as Knowing Your Income is a service mark of Wealth2k, Inc.
Investing involves risk and you may incur a profit or a loss. There is no guarantee this model will perform as planned. If the model underperforms, the income levels and assets could be significantly reduced.
Purchase of an annuity contract through a qualified plan does not provide any additional tax-deferral benefits beyond those already provided through the plan. If you are purchasing an annuity contract through a plan, you should consider purchasing it for its death benefit, annuity options, and other non-tax-related benefits.
Jeffrey Bettermann, RFC is not affiliated with Wealth2k.
Wealth2k, Inc Terms and Privacy Policy